This Event was Great, the Line up of speakers was Awesome. We started out with Bill's talk about Building your Business. Bill gave real life examples on how many of us fail by simply not following through with the business plan we put in place and non willingness to change the things wrong in the plan to succeed. To contact Bill:
accuwash1@gmail.com
Chet Eby lead the Round Table old school discussion. Many talked about application of Chemicals on Different Sub Straights. We had many questions from various different attendees.
Jonathan Martin is a Brand New Associate member who Talked about Equipment Maint. He discussed how a little preventive maint. could save you 1000's in repairs. Jonathan's Maint course was great with a great Q&A period. Attendees got a lot of knowledge from Jonathan and look forward to his participation in future events.
Tony Shelton UAMCC Environmental Director gave his address on the Nationwide Teams stances of future Environmental Concerns that face the UAMCC contractors and the Industry. Tony Along with Jerry McMillian, Scott Stone and Mike Wooley have set up a nationwide Team of Contractors From each region and state to assist in the problems the industry is facing. The Environmental Team is the largest in the Industry with the best resources from both customer contractor & regulators perspectives.The Environmental team is knowledgeable and brings a vast perspective of the contractors so we are the solutions to pollution not the problem. Tony's simple motto is "We have a net Positive effect on Pollution not a Negative impact". Unlike past distributors calling the Industry Polluters and calling for regulators to implement stronger regulations; The UAMCC is taking a step by step process to show them how simple implementing proper BMP's can be to easily reduce pollutants already existing. Typical power washing does not create pollution but reduces pollution by keeping places cleaned on a more frequently timed schedule. At the days end this is a better Health and Safety stand not only for our ground water but provides a nicer healthier environment. Great Job to the entire Enviro Team. To Contact Tony:
tonyshelton@sonitx.com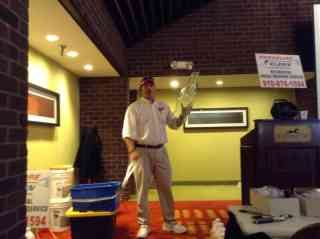 Guy Blackmon Delivered in my opinion the best talk of the day, his simple strategy of forming a proper Foundation for Branding shows it's working because Guy is successful. Guy Blackmon has taken his business from a part time spot to full time with Mutltple Units in a very short time. Guys Growth of his business will be one to watch as his Branding Technics are dead on. Guy always in a Collared Shirt even as a Service Tech out in the field makes a statement. Guy Blackmon's website is also head and shoulders above the rest. When it comes to branding Guy Blackmon is the Coca Cola of Pressure washing. To contact Guy:
guy@pressurekleen.net
Lenny Schrecengost presented about First time Garage Cleaning. Lenny a Full-time Contractor Garage Cleaner is a Member of the of the environmental team. Lenny who has been extensively involved in Educational Events since 2008 he has been a Educator helping Contractors throughout the country. Highly successful be runs his Pressure cleaning business along side his Son Bryan who has also been on Staff Educating contractor at the PressureWashingInstitute.com for Years. Together as a team Lenny Operates a Successful Environmentally safe Garage Cleaning powerwash Business in Virginia. Lenny has Been a member of the UAMCC Since 2009 and is highly active with teaching others proper technics to safely Clean Garages and is a member of the UAMCC mentor program. To contract Lenny: lenny@lennyspowerwashing.com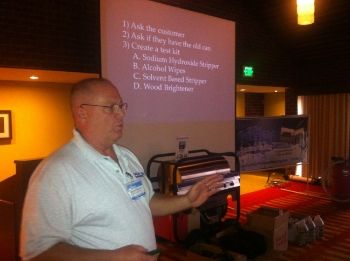 Everett Abrams presented on Wood Technology & the changes our industry faces. Mr Abrams is a 25 year Vetran on the UAMCC mentor program and has taught Wood Care for over 20 Years. He is the top wood care professional throughout the country. Everett a Past President of the
www.pwna.org
and Chair on Joint Committee for Forest Labs he is no stranger to Education. Everett is hosting a Wood FEST in April in the Carolinas and is putting on a free 101 Course on Wood Restoration. If you interested in this Please See
www.uamccevents.com
To contract Everett Direct :
eabrams@deckrestorationplus.com
The members and the BOD want to Extend a Thank you to OUR ROCK star members Jay & Bill for Bringing us a Great Event in the Mid-atlantic region and look forward to another Great Time Next year.
We would like to especially thank all our Associative Members for the wonderful and amazing gifts and prizes we were able to give out at this event. We had so many come together to make this event a success I can't name you all. We thank you sincerely for all your support and generosity.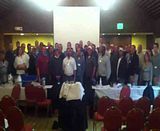 If your a Contractor of Distributor who wants to attend
www.uamccevents.com
Please Just get registered or contact Our Marketing Director Leilani at:
leilani@uamcc.org