They can look like dead ants just scattered all around your home....but look closely.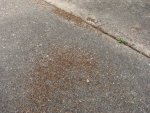 Have you found roofing granules on the ground around your home?
Why are they there and where did they come from?

Take a good look at your roof and you may notice it "looks" dirty or has black streaks.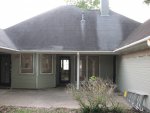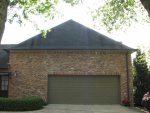 But the reality is the roof is being eaten. The granules you're finding on the ground may be the result of the filament root system of the algae that are attacking, and eating, your roof! The algae eats away at some of the minerals around the protective granules in your shingles and can cause the granules to become loose. A heavy rain hits and washes the, now loose, protective granules off the roof.......shortening the life span of your roof shingles.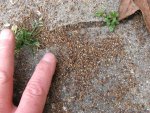 You could simply sweep away the granules and ignore the problem but there is a simple and cost effective solution that could slow down the degradation of your roofing system. Its a process called "Soft Washing".

Soft Washing was invented by AC Lockyer back in the early 90's. AC, who's background was in horticulture, developed this safe, no pressure way of combating the algae, moss and lichens by effectively killing them AND their root systems. Soft Washing is a process of gently spraying a 100% biodegradable solution onto the roofing shingles to kill the algae. In many cases the roof is then gently rinsed.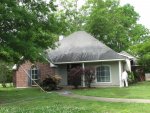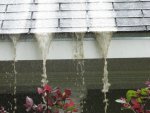 The process was found to be so effective that it is the recommended process for roof cleaning by ARMA (Asphalt Roofing Manufacturers Association) and by roofing manufacturers themselves.

In the "old days" people used to....are you ready?...Are you sure?......People used to use pressure washers to clean the algae from the roof. The use of high pressure often caused more damage then the algae! Roofing manufactures can and will void the warranty of their roofing system the moment a pressure washer is used simply because of the severe damaging effects caused by this type of roof cleaning.

Let's back up for a moment.....you found roofing granules around your home, and now you know why, and you know that Soft Washing is a cost effective solution, but how do you soft wash?

Soft Washing should be left to a professional roof cleaning contractor and we are more then willing to help you find a true professional in your area. Cajun Soft Wash, our company, services much of Southern Louisiana and we are in constant contact with professional roof cleaning companies from Maine to Hawaii to Oregon and beyond!

Feel free to give us a call. We won't charge you for the advice and we wont charge you to assist you in finding a true professional.
But feel free to "Like" us on Facebook.....:} for providing you with the help and expertise you deserve!