What is Alucobond?
How do you clean the metal siding at a car dealership?
How do you clean Alucobond?
What is Aluminum Composite Material?
Alucobond
is the original aluminum composite material (ACM) used in the architectural and building cladding industries and is becoming synonymous with the paneling itself. Much like other large brands, Alucobond has become a catch-all term that people often use to describe the aluminum composite paneling found at many large commercial buildings.
Aluminum composite material (ACM)
is a three-layer sandwich panel consisting of two pre-painted or finished aluminum sheets bonded to a fire-resistant, polyethylene (PE) core. ACM panels are often seen on the sides of car dealerships and other large commercial buildings. ACMs were originally developed to meet strict fire codes while offering good dimensional stability, low weight, and a bright look.
Alucobond is actually a brand name of ACM, and not the product itself. There are several manufacturers of ACM, with Alucobond being the original and most common. The leading manufacturers of ACM are:
Alucobond (3A Composites)
Alumtech
MaxMetal (Grimco)
Alpolic
Alubond
Reynobond (Alcoa America)
ACM typically comes with one of 4 types of finish:
Painted

Many Colors Available
Easy to distinguish because of the bright colors

Brushed

Visible brush strokes.
Has the appearance of raw Aluminum

Mirror

Highly Polished, mirror finish

Anodized

Increased durability and abrasion resistance due to protective, aluminum oxide layer.
This finish is not painted on. The top layer of the aluminum is chemically altered.
So, the real question is, How do you clean it?
First, due to their nature and price, these types of panels should be cleaned frequently. Manufacturers recommend cleaning these panels every 6 months, usually the same times the windows of the building are cleaned. This will prevent stain build up and the need for deep, chemical cleaning.
Each specific manufacturer and finish will have their own cleaning specs, but here are some general guidelines:
For Paint Finishes: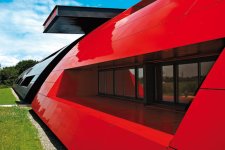 Use commercial or industrial detergent at a 5% solution (roughly 1 part detergent to 20 parts water). Follow up with a thorough rinse with fresh water. Use cloth, sponges, or a soft bristle brush for application.
Avoid cleaning in direct sunlight, and work either on a cloudy day or on the shaded side of the building.

If the staining is worse and simple cleaning isn't effective, solvents may be used CAREFULLY.
Isopropyl and Denatured Alcohol can be used for non-water soluble stains. Certain petroleum solves like Naptha can also be used but must be thoroughly wiped and cleaned off.
NEVER USE ACETONE!


If mold or mildew is present, an extremely light mix of SH can be used (0.5% SH) with a mild, pH neutral soap.


Rinse thoroughly, and follow up with a pure water rinse to prevent spotting.
_____________________________________________________________________________________________________
For Brushed Finishes: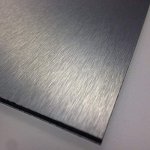 Mirachem 500
is the cleaner recommended most by ACM manufacturers.
When cleaning panels with a brushed finish, premix the Mirachem 500 between 1:3 and 1:10 with water.
Apply Mirachem and wash with a lambs a soft cloth (think as though you're washing a car).
Rinse off immediately.
Clean on a cloudy day or on shaded side of building.
_____________________________________________________________________________________________________
For Mirror Finishes: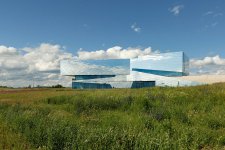 Wash mirror surfaces with a soft cloth and a 3.0-4.5 pH cleaner and water. Rinse immediately and either dry or follow up with a Pure water rinse.
For Oil and grease Stains use a 1:1 mix of Isopropyl Alcohol and water.
Stubborn stains can be soaked in a diluted Citrus cleaner
No concentrated acids or alkalines (No Hydrochloric acid). Do not use any cleaning product undiluted. Avoid the use of vinegar-based cleaning products
Again, clean on a cloudy day or on shaded side of the building.
_____________________________________________________________________________________________________
For Anodized Finishes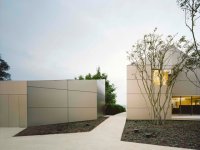 For mild cleaning, follow recommended process for painted panels.

For heaving staining, hand scrub panel using a nylon cleaning pad, brushing in the direction of the grain. Use water and a mild detergent.
If inorganic build up won't come off, utilize solvents with extreme care. Follow guidelines specifically outlined by manufacturer.
_____________________________________________________________________________________________________
These general guidelines have been pulled from the clean and care instructions from several of the top manufacturers.
The top recommended cleaning products from the manufacturers are
Mirachem 500
and
Purple Magic.
Both are great cleaners for these products.
For deeper, spot cleaning,
Rooftec OxiTec
or
F9 BARC
can also be used
The Absolute Most important thing to do with EVERY cleaning is TEST TEST TEST!


For cleaning Mildew stains, on ACM Paneling or other surfaces, consider upgrading your system to the Rooftec XCS500!