Fertilizer Rust Stain on Pavers Pics

Congratulations, Dwayne of Fantasy Pressure Washing on your FIRST job with F9 BARC Rust Remover. This job came in through the Front 9 Restoration website and his customer is VERY happy! Dwayne's customer had 2 other contractors come in who couldn't budge this.
Colored pavers are one of the most difficult substrates to
remove rust stains
like this. Dwayne got the job through the Front 9 Website and absolutely killed it on his first try. His customer had a contractor come in with a pressure washer, floor scrubber, hydrochloric acid and oxalic acid. After spending a few days trying, the fertilizer wouldn't budge. F9 to the rescue, baby!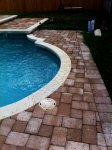 ​