Exterior Pro Wash started in West Virginia as Exterior Clean. Attached please find an attachement of the screen shot of the WV Business & Licensing. Our LLC was Freedom From and we were DBA, Exterior Clean.
We filed for a license for Exterior Clean in 3/02/12.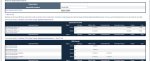 Here is the actual link to locate our business: (if the file of the screen shot does not enlarge.)
http://apps.sos.wv.gov/business/corporations/
If necessary, we can easily locate the paperwork once we're home- Please advise.
Lucian would like to test for:
Roof
Waste Water Management
Fleet
Thanks,
Audra and Lucian Miller