Past President
Staff member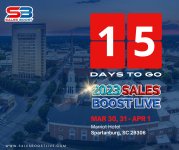 Check out our website
: Register for this epic training, see the schedule and speaker line up.

Register For The SALES BOOST LIVE – 2023
Follow Sales boost/The Science Of The Sale On Facebook
Contact Patrick Clark On Facebook
​
15 DAYS UNTIL THE BIG EVENT IN SPARTANBURG!
If you haven't signed up already the link is below-- I can't stress enough how useful this event will be for you and your team. We have a great line up of speakers, onsite quotes and countless tools for you!
​
2023 Sales Boost Live March 30,31-April 1
Marriot Hotel Spartanburg, SC 29306
​