You've probably noticed: The Obama administration and Congress are talking about spending an unprecedented sum of money to try to revive the economy.
President Obama and House Democrats laid down the marker with an $825 billion package of spending and tax cuts.
Dozens of proposals. Hundreds of pages of legislation. Billions of dollars.
What are some of the headline proposals, and what is the debate all about?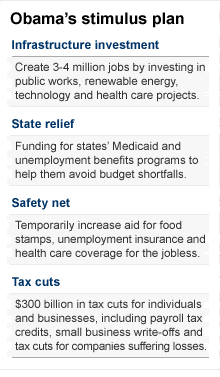 Read more here:
http://finance.yahoo.com/banking-budgeting/article/106490/Stimulus-101-What's-in-the-Bills