Please read Carefully and Proceed to Ballot in Member Area ONLY CLICK Here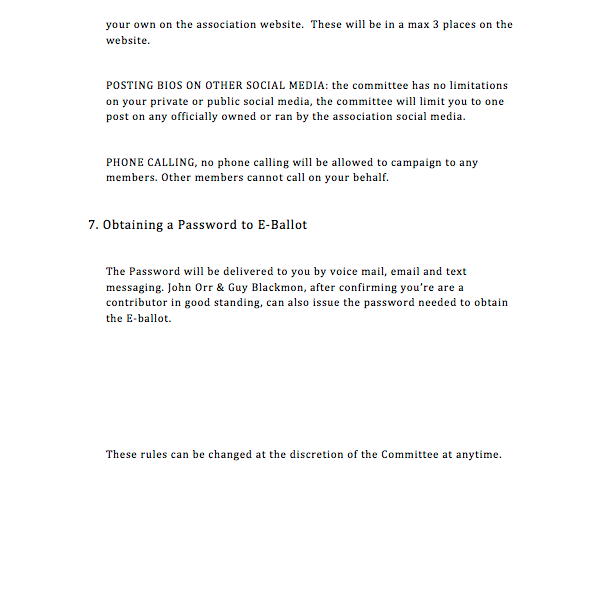 Nominations are Closed

hello members, it's that time of year to appoint a new bod for the uamcc. The bod have asked myself, john orr, charlie soden (all past bod members) to help in the election process and insure a completely transparent election that follows the guidelines of our bylaws.

*the nomination process will begin jan. 15 2016*

to nominate a candidate....... you must be a contributing member in good standing. You will post your nomination in a thread that will started "by me" on the uamcc forum. If the candidate accepts the nomination he/she must copy & paste the nominating quote with a statement accepting or declining the nomination......please note...all nominations made, accepted or declined must be made on the uamcc forum in the "town hall" thread......not on facebook or any other media site.......uamcc forum only.

*nominations will end on feb. 15 2016


*elections start march 16 2016 and end the same day*

voting for a candidate...... All contributing members will be emailed a link for your voting ballot. There will be 3 ways of voting #1....e-ballot which can quickly be done online....#2....mail in ballot....#3....fax ballot....all ballots must be filled out with members name and member number along with any other information requested.


*seats open for nomination*.....president, vice president, treasurer, secretary.....and 5 "at large" seats. For a total of 9 seats or directors.


I urge any & all "non-contributing" members that wish to vote and be more involved within the uamcc, to have your membership dues paid by jan. 14th 2016 in order to participate in this years election.


If there are any questions i can help with, please post here or on the uamcc fb page.

Thanks! .....................
Click Here to Proceed to Official Ballot
Last edited: