How times have changed. Was talked with a network cleaner about a cleaner the other day that spent about $14,000.00 for a soft wash set up to start roof cleaning. He was looking how to market roof cleaning.
My advice would be to spend the $14,000.00 on marketing and branding his roof cleaning service. Talk about the horse before the wagon. LOL
I know a guy in S.C. that cleans roofs with a hand pump up sprayer and rinses with a garden hose. Talk about cost effective start up equipment. LOL What is that about $50.00?
When I started I didn't spend $1,400.00 for my soft wash set up. Though I did have a used pickup truck. Cleaned many a roofs with it.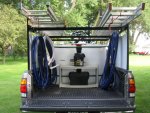 Today the setup I have I have about $2,500.00 invested in equipment and I clean a lot of roofs every year with it. I also owned the truck to begin with.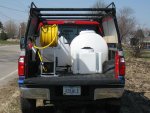 This picture doesn't have my ladders in it but they are included in the cost.
I can not only clean roofs, but siding, decks, fences, walkways etc. with this set up. Do it all the time.
What I do spend most of my budget on is marketing and branding. My equipment doesn't put any money in my pocket until the marketing gets the work.
Given my experience starting up a roof cleaning service. This expense starting out having never cleaned a roof is way over the top. Oh it may look and sound good but will it pay the bills?
Given he is calling around trying to now find out how to market roof cleaning only tells me he is in for a rude awakening. Must say I feel sorry for the guy. If nothing else he'll look good! Hope he has a day job.
What ever happened to the K.I.S.S. principle. I am a roof cleaning service only and only offer the others services listed above to roof cleaning customers only while I am there.
Anyone that is a roof cleaner knows it isn't easy street getting the jobs. The easy street is doing the jobs. Anyone that says different hasn't started a roof cleaning service.
There is nothing I'd like better than to have a brand new truck but if by doing so I cannot afford to put gas in it why would I buy it. Okay, so I'd look good sitting in it in my driveway. LOL
Granted if someone has built a business to the point they can afford such great. But in this case the guy took out a second mortgage on his house to buy this! On top of that he isn't a roof cleaner! Dah!
Word of advice from a guy who didn't have to take out a second mortgage to get started in the roof cleaning service. Save your money for marketing and branding your service. You'll need it starting out.
Shop around on the internet/forums there is plenty reliable pieces of equipment that will build a nice setup for roof cleaning for about a couple thousand dollars. Used trailers are cheap. Tow hitch is cheap.
The way things are going it won't long, if you can wait, that you'll be able to buy a new setup for cheap.
Don't buy with your emotional head, buy with your business head.